The JAF product range consists of wood species that are ideal for outdoor use. Each of our decking products has its very own character and hence an unmistakable appearance. However, they all have one thing in common: they are weather resistant, durable and maintain their shape. Whether you prefer wood or WPC, European or exotic wood, rustic or elegant – JAF has it all.
Quality makes the difference
You will benefit from our experience: via our international organisation we have access to the most important procurement markets and quality control right on the spot. This guarantees that even the highest standards can be met. For WPC we rely exclusively on leading manufacturers – both in Europe and internationally.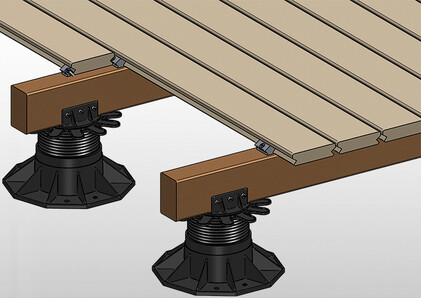 The right construction
Even though the decking itself takes centre stage, the "hidden values" play an equally important role, namely the accessories. Whether they are in solid wood or WPC – the substructure and fixings are essential elements of any terrace and make a substantial contribution to its structural protection. Root control fleece to prevent the growth of weeds beneath the boards, rubber granulate pads for the substructure or levelling feet for height adjustments – there are numerous helpers to ensure that terraces maintain their good shape for a long time.
JAF offers support through expert advice and comprehensive documentation on everything to do with terraces.
Papenburg - our decking distribution warehouse
Besides our vast domestic supply of European decking products, we store our oversea sourced goods in the port warehouse of Papenburg. This allows us to rapidly fulfill every customer's demand, regardless of the target location. Fifty containers come and go each year, shipping exotic types of wood from South America, South-East Asia and Africa, and WPC from the USA and China.